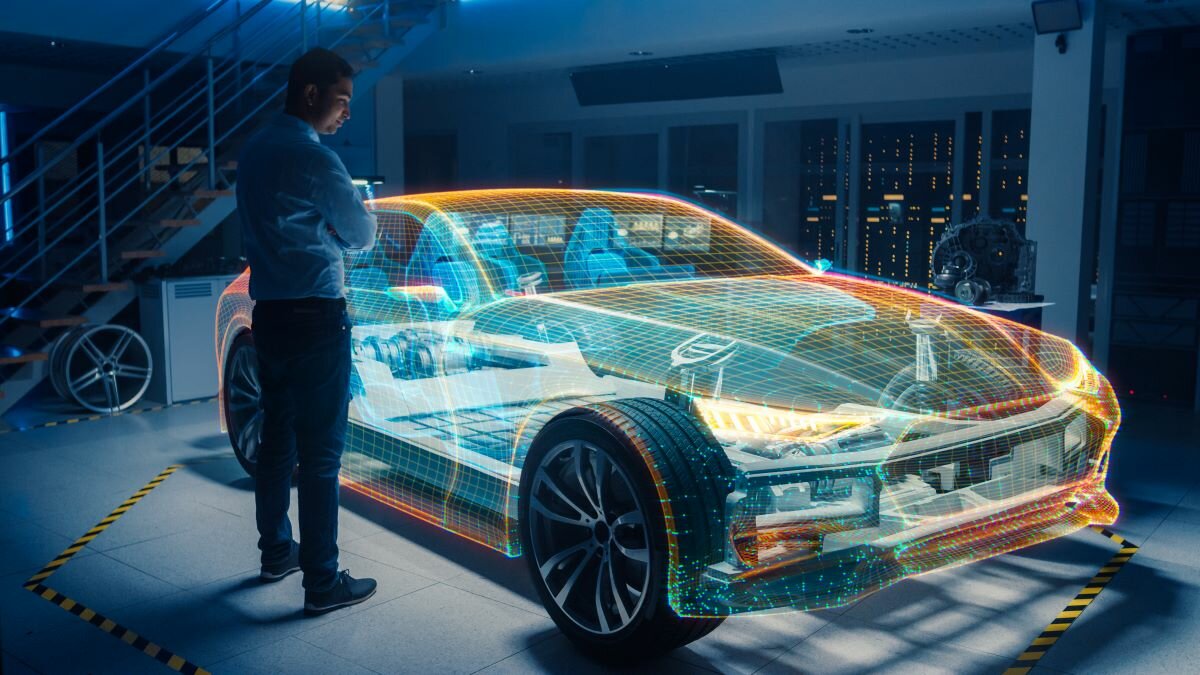 The role of plastics in reducing weight while improving energy efficiency, safety, and performance in automobiles is well documented. In recent years, however, specialty polymers (composite plastics) have received significant attention owing to their varied applications in lightweighting initiatives, notably in the automotive and transportation sector. Lightweighting – the process of reducing automobile weight through the usage of lighter materials and innovative engineering technologies – cuts fuel consumption, and resulting carbon emissions.
As such, composite plastics are better suited for manufacturing lightweight components due to their better strength-to-weight ratio (Wazeer et al., 2023). In practice, the ALMA project aims to achieve lightweighting by using reinforced plastics (composite materials) in its battery electric vehicle (BEV). Though composite materials contribute to weight reduction, their potential has not yet been exploited, says ALMA consortium partner Fraunhofer ITWM.
In addition to lightweighting, ALMA is adopting a comprehensive approach to the materials, including composites, used in the BEV. This approach considers not only the environmental impact of materials at the end of the vehicle's life but also ensures the safety of the new car design when using such lightweighting materials. Crash validation, for instance, requires a multi-scale virtual model to accurately determine the material behaviour of the composite. "The modelling and simulation of both the manufacturing process and the crash and fatigue behaviour are very demanding. This is precisely where our work on process and material optimization comes in […] In the ALMA project, however, it was shown that interdisciplinary collaboration can qualify a composite part for a lightweight application in a relatively short time," experts at Fraunhofer ITWM explain.
Read how ALMA is balancing innovation with practicality
From that perspective, Alma's holistic approach to composite materials, considering practical applicability challenges involved and their end-of-life (EOL) management, will be a game-changer in the BEV segment, especially given the rising popularity of composite plastics in lightweighting applications. According to a recently published article in Research and Markets, the specialty polymer market is forecasted to grow over 7% Compound Annual Growth Rate (CAGR) between 2023-2028, given their widespread adoption in applications used by the automotive, aerospace, construction, and electronic industries. This growth can be attributed to a higher demand in lightweight vehicles, including electric vehicles (EVs), among other factors.
Electric car sales skyrocketed in 2022
For example: In 2022, sales of electric cars, including both battery electric vehicles (BEVs) and plug-in hybrid electric vehicles (PHEVs), surpassed 10 million units, marking a 55% increase compared to the previous year (IEA, Global EV Outlook 2023). Crucially, the IEA EV report highlighted that the sales contribution of electric cars compared to total car sales spiked from 9% in 2021 to 14% in 2022, registering more than a tenfold increase since 2017. Within electric cars, BEVs accounted for 70% of the global stock in 2022.
Also read: ALMA at GACS Expo, Stuttgart, 2023
And as the demand for EVs grows, so will the need for composite plastics to reduce vehicle weight and increase mileage.

Considering these statistics plus the industry's commitment to a low carbon future, the automotive sector's preference for using composite plastics, especially in BEVs, to boost mileage and efficiency by reducing vehicle weight is unsurprising. Thus, the electric vehicle segment could be considered as one of the driving forces behind the uptake of specialty polymers in the automotive and transportation sector.
Composite plastics are reliable, fatigue resistant and easy to process
Specialty polymers are attractive precisely because of favourable properties, such as thermal resistance, fatigue resistance, wear resistance and ease of processing, that make them well suited for frequent application in the automotive industry. Additionally, the thermal resistance feature increases the reliability and safety factor.
Read about ALMA, other sister projects' contribution to lightweighting
Although notable, these properties and the lightweighting potential should not be the only basis for the uptake of such polymers. Switching from conventional materials, such as iron and steel, to lighter materials, such as composites, among others, for lightweighting might decrease energy consumption and greenhouse gases (GHGs) during ICEV use phase, but increase energy use and emissions during production phase (Kim and Wallington, 2013). Which is why auto manufacturers and engineers should give attention to life cycle analysis (LCA) and circularity aspects of these specialty polymers to minimise environmental harm, from the design to the end-of-life (EOL) phase, whether its an ICEV or BEV. Otherwise, the use-phase optimisation may result in even bigger sustainability issues during the production and EOL phase. In other words, a cradle-to-cradle approach that shifts the linear manufacturing process (take-make-use-dispose) to a circular one (reduce, reuse, recycle) by closing the loop in production and eliminating waste should be adopted.  
ALMA ushering in systems change with Eco-Design approach + Circular Economy principles
And ALMA is pursuing this holistic, life cycle approach that incorporates advanced light materials using eco-design principles to build lighter, sustainable, and efficient BEVs.
To operationalise the concept, a two-step approach underpins the novel electric vehicle structure: 1) Holistic Eco-Design Approach using lightweight materials, and 2) Circular Economy approach across life cycle to enable recovery of materials at EOL.
Firstly, the aim is to develop a vehicle structure, including Body in White (BiW), chassis and closures, which is made of advanced light materials, such as high strength steel grades, metal-hybrid laminates, and thermosetting composites (akin to specialty polymers). Uniquely, this vehicle structure will comply with three strategies essential to achieve circularity, namely "right material for right application", Designing for Assembly and Disassembly (DFA/DFD), and Design for Recycling (DFR). Moreover, the vehicle will embed intelligent sensors to detect early damage to parts to facilitate an easier, efficient service but also increase lifespan and improve value retention.
Watch videos: All you need to know about ALMA project
Secondly, circular economy principles will be applied throughout the lifecycle of the structure at the end of its life (EoL). Innovative reversible structural joining technology will be employed for various joints, while an integrated health monitoring system will detect and assess damage for potential repair and reuse. If damage proves irreversible, recycling and material recovery options will be utilized to complete the loop.
Both the above approaches will be assessed and guided by LCA (life cycle assessment) and LCC (life cycle cost) methodologies to combine circularity and practicality of vehicle as a working model.